The College Park Press
11213 Monticello Ave.
Silver Spring MD 20902
USA
(301) 257-7069
email: <info@cgpp.com&gt


From Cambridge University Press: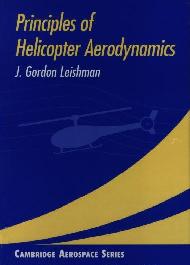 Principles of Helicopter Aerodynamics
by J. Gordon Leishman

Now shipping.

ISBN 0-521-66060-2
536 pages, 7" x 10", hardbound, June 2000.
$95.00 + S&H

(from the back cover)
This book, written by an internationally recognized teacher and researcher in the field, provides a thorough, modern treatment of the aerodynamic preinciples of helicopters and other rotating-wing vertical lift aircraft. Suitable for advanced undergraduate and graduate students, as well as practicing engineers and researchers. This up-to-date work includes:
a unique technical history of helicopter flight
a discussion of the basic methods of rotor aerodynamic analysis and issues associated with helicopter performance and design
an in-depth examination of advanced topics in helicopter aerodynamics, including airfoils, unsteady aerodynamics, dynamic stall, and rotor wakes.
J. Gordon Leishman, Professor of Aerospace Engineering at the University of Maryland, is a former aerodynamicist at Westland Helicopters and has written extensively on topics in helicopter aerodynamics.

Back to the College Park Press home page.
---
Last update: May 15, 2011 (Sunday)